April 04, 2011
Tono Gallesio interviewed by Monica Paz

Double-click to watch in full screen
Here my friend Tono talks about how tango was when he was a child, his first memories of dancing in club Independiente, in the 1950s and 1960s. He was interviewed by Monica Paz at PractiMilonguero, March 22, 2011. He also contrasts the tango of his generation with what he sees at the milongas today.
In those times there was an unequalled respect on the floor.... They didn't collide. You danced tango even to D'Arienzo on 40 centimeters and you didn't collide with anybody. It was very tranquil. Today they use the woman like a bumper car in the Parque Japonés. They're moving the woman like a clothes dryer. They're shaking her in all directions. When I'm dancing with a woman, I'm leading her as if she were a castle made of cards. When she is with me she is untouchable.
RE: throwing coins .... Later in the interview Tono talks about people throwing coins at the dancers who were showing off and dancing badly in an exhibition. As a cultural note, throwing coins at someone is an Argentine way to show disapproval. Tono talks about being a kid and picking up the coins, but it wasn't explained the significance of the coins. (My friend Maria remembers seeing an audience throw coins at Piazzolla. No wonder he went to Europe.)
Tono's Facebook Page has more of his comments and links to tango videos he likes.
Posted by joegrohens at 12:59 PM | Comments (0)
March 01, 2011
Interview with Miriam Pincen
Monica Paz interviews Miriam Pincen. They talk about how Miriam learned to dance, who were her teachers, how they taught, how she learned the codes of the milonga, etc.
Posted by joegrohens at 01:06 AM | Comments (0)
February 28, 2011
The Bohemian Youth of Bs As Play Tangos
Music World is a video travel show produced and edited by the Brooklyn documentarian Oresti Tsonopoulos on the subject of musician subcultures around the world.
Tsonopoulos has just released Episode 4 of a multi-segment series on the revival of tango music in Buenos Aires. He has filmed young musicians performing tango music in places around San Telmo. They refer to what they are doing as new tango, meaning that it is their generation's engagement with the old music. They don't actually seem to be creating new tango music, and the songs they play are classic tangos. But their tango "scene" is new, or at least, they feel that it is.
In episode four, the band leader of "China Cruel" speaks of the difficulties of making money with tango.

You could be the most popular tango group in town and still not be able to live off that. However, if you are the most popular rock band, things are great for you. You lived well, both many shows and tours.

If you are among the top 10 tango bands, nothing! At best with some luck, you won't have to pay out of your own pocket to record your album. It's a very small movement fighting an uphill battle. There's no market for Tango, except in tourism words very limited and doesn't have a new and unique projects. The tourism is like… They bring everyone in the van to the door of the "Tango for export" house and there they stay. Then they put them back on them and take them back to the hotel.
Music World Episodes on VIMEO.
Music World Episodes on YouTube.
Posted by joegrohens at 01:40 PM | Comments (0)
January 18, 2011
Olga Besio on Embellishments
---
Prof. Olga Besio (2007)
Translation: Maria Celia Arias
In order to speak about embellishments, and to give support to all that comes along with them, it would be important to mention some of the origins of the essence and existence of Tango and it's dance.
It is necessary to clarify that the word "dance" does not only refer to the practice of a technique. On the contrary, its more general use and meaning refers to all forms of dance. And this reference alludes to that which occurs naturally, primitively, remotely, that which is visceral and even animal like in the human experience. In this sense we are talking about an experience that comes from an earlier time historically, chronologically and ontologically than this concept of technique we speak of today.
If we understand the dance as a profoundly natural act, which is born from the human experience, then as we speak of popular and social dance (where perhaps the tango dance is our most intrinsic example) we immediately discard all that would seem redundant or obvious.
So then: What is the Tango? What we already know: a dance for two, a deep communication with the other, and with the music, and then we can even say we begin to "discover" this idea of dialog. The dialog between the dancing couple, the dialog with the music, the dialog that happens between the feet when they draw famous figures on the floor such as the "ochos" and so many others. We can even take this idea further, and mention the dialog that happens between the feet, the legs and the air, when drawing "boleos" with precision and fine clarity, creating and recreating the same, yet new shape, with each occurrence.
But, then what is the embellishment, which has also been called at times, the decoration or the dancer's expressiveness? The embellishment consists of the precise expression of the essence of the tango. There is no purpose in embellishments stemming from mere technique alone, if one does not understand "what they really mean and stand for." The legs of the dancers create and form a dancing couple as one. They embrace, they join, dialog together, they caress… and this all technically happens due to a game of rotation in their joints and articulations. But this game of rotation should not be understood as something cold and technical; on the contrary, it is something absolutely natural and as logical as any kind of language. The legs "express", and are "expressive", when they have and know the language; not merely because they move or know how to move.

Continue reading "Olga Besio on Embellishments"
Posted by joegrohens at 02:28 AM | Comments (0)
December 20, 2010
Mi bandoneon y yo - Ruben Juarez
I'm working on an article about the amazing Ruben Juarez, whose performances taught and still teach me a lot about tango.
For now, I'll just lead off with this song that embodies him so well.
PS - Corrections are welcome about my translation of the lyrics, following the jump.
Continue reading "Mi bandoneon y yo - Ruben Juarez"
Posted by joegrohens at 01:38 PM | Comments (0)
November 27, 2010
Troilo's Bandoneon
Ceremony at the National Academy of Tango
Letter from Buenos Aires, November 24, 2010.
By Beatriz Dujovne
Walter Rios playing Troilo's bandoneon. Horacio Ferrer and Soria in background. Click to enlarge.
Last week, the National Academy of Tango held a ceremony honoring Amelita Baltar (singer), Ernesto Baffa, Rodolfo Mederos, and Walter Ríos ("bandoneonistas"). The president of the Academy and "the" poet of Buenos Aires, Horacio Ferrer, introduced each artist with great affection. Although over one hundred people attended, the ceremony had an intimate tone.
I cannot tell you how moving it was to hear each artist speak.
Amelita, former partner in life and in music of Astor Piazzolla, holding Ferrer's hand, expressed gratitude for the privilege of singing the "poesía caliente" (hot poetry) of Ferrer to the music of Piazzolla.
Listening to the musicians talk about their beginnings was to understand why the bandoneon (the "fueye" as it is called in Buenos Aires) is who they are. Ríos began playing with the buttons of his father's bandoneon before he was old enough to walk. Mederos was a little kid when a neighbor put a fueye on his lap. For him, the sounds come from the fragrances of his early home, the sight of the dog laying on the dirt floor, the smell of "mate cocido," and the love of his parents who, despite their "lean" pockets, managed to pay for his musical education when he was just 6 years old.
The program was to conclude with Ríos playing Troilos's bandoneón, which rests at the museum of the Academy (it is played twice a month). He passed the instrument to his colleagues, which gave us the experience of listening to the sounds of the bandoneon in the hands and souls of the three maestros.
Baffa hesitated abut what to play (for 1/2 a second) and about 10 people in the audience shouted "Responso!" The other 2 men played compositions of their own.
You may wonder if the musicians made any comments about the bandoneon of Troilo. Mederos was cute in his depressed proletarian presentation (contrasting with Walter Rios, who was dressed up with a very expensive silver gray silky suit). Mederos started getting acquainted with the bando before really playing and said (without meaning to be funny), "I must say a musical instrument is like underwear: to be used by one person." He was the last one to play and said "in respect for the music I am going to remove the microphones."
And did Troilo's fueye sound different when played by different musicians? Totally. I wish I knew the technical terms to describe it. Mederos's sound was like a soft lament that goes on and on. Baffa's sound was as seasoned and full as Troilo's orchestra. Rios' sound was highly refined, lively.... like eating oysters with a silver fork. - Beatriz
Beatriz Dujovne November 24, 2010 Copyright © 2010 Beatriz Dujovne. All rights reserved.
Posted by beatriz at 04:00 PM | Comments (0)
October 24, 2010
Tango Italiano
This photo is by Marco Petronio, one of several Italian photographers who have taken amazing photos of tango dancers. In Italy, both the dancers and the photographers show an amazing sense of style.
Marco Petronio's Tango set on Flickr

Posted by joegrohens at 12:53 PM | Comments (0)
August 07, 2010
Un tango dedicato...
Originally uploaded by micmac71
This photo made me think about the question one of the guys asked me at practica recently. He wanted to know what was my "favorite move."
"Move?", I said.
Around us a bunch of the college kids, er, students were practicing colgadas, volcadas, linear boleos, ganchos, hauling the girls around the floor in scissors splits, and other assorted acrobatics. (I really get fed up that that is the only thing people teach as tango these days, but that's off topic right now.)

"I really don't think about moves when I am dancing," I said.

He clarified: "You know, what do you like to use when you really want to express yourself."

I wish I could have shown him this picture and asked him if he thought the dancers were "expressing themselves."

In practica and lessons, dancers are training themselves. And if you have energetic, talented, ambitious dancers, they will naturally build an aspiration around their tango. It is normal.

So what do they aspire to?

At the beginning it is easy to think that the goal of tango learning should be to learn more steps, and to advance to the most challenging (and presumably most rewarding) maneuvers. And if the maneuvers are hard to do, people will tend to spend more time trying to achieve them, just because they can't do them yet. It's normal. But it's a wrong turn, and eventually (we hope sooner than later), tango dancers get over it and look for something more serious and meaningful in the dancing rather than doing tricks.

That made me think about my own tango goals.

I realized that I do have a constant aspiration in tango. It is sort of an unarticulated, even to myself, idea of what is a good (not even great, just good) dance, and it's what keeps me coming back to tango to find it again. And that aspiration is to find a point of calm stillness between my partner and myself, where we are both listening to each other, both waiting for each other's next movement, both being on the same page in what we hear in the music, and, basically, moving totally together with mutual full engagement.

I'm not going to hold my breath waiting for that to happen... it takes the right partner, the right music, I have to be in the right "mood" (I guess), and such moments don't come around every month. But that's dancing tango, in my view. Not doing "moves." You need skills to dance the way I'm talking about, but moves are deeply subordinated to the experience of being with the partner.

I think that this photo resembles my aspiration.


Posted by joegrohens at 04:12 PM | Comments (0)
June 15, 2010
Online Tango Music Sampler
This web project organizes snippets of tango music for sampling. I have used it to find songs that I could hear in my head but not think of their name. And by browsing you can discover some gems that you didn't know about before.

An excellent tool, by Anton Sukhanov.

Posted by joegrohens at 12:35 PM | Comments (0)
June 14, 2010
Susana Miller
Susana Miller recently published two new essays.

Susana Miller is, in my opinion, one of the best contemporary writers about tango dancing. She knows what she is talking about, and tells it like it is. And she finds a way to put into words things that are not easy to explain about movement learning and dance culture.

Check these out.

Tango abierto and tango milonguero (Tango Open and Tango of the Milonga)
Excerpt:

Tango abierto attracts beginners and inevitably makes their life easier, which is fantastic, since no popular dance continues for decades unless there are beginners. But the paths of learning gradually turn long and twisted, and you never know where and how the story is going to end. But he or she who continues will finally reach something really big, a sort of climax, la fiesta del tango: a more mature tango, less narcissistic and less ostentatious. Tango is in no rush, it knows how to wait even until you reach your forties. Tango withdraws itself in order to get stronger, and emerges triumphant, a tango that is no longer based on the look of the others but on the profound dialogue between partners. Its conception of music is richer and more sophisticated. It isn't formed by the muscular tension of the tango of stage performances but by relaxation of the body. Therefore, it's a more organic tango, not suitable for theatres and performances where the tango abierto is danced.
EXCERPT:

The way to accelerate this natural process is to experience these sensations from the opposite role. And in addition to use the dance floor, because the Buenos Aires dance floor teaches; the crowded floors oblige us to circulate using certain codes, to support the body's weight in the right places in order not to lose balance, etc. Teaching outside of Buenos Aires still implies a great challenge. The dance floors don't teach, the traditional milieu is not replicated, the old magicians are not present.

Overseas, the best dancers are generally the teachers: they organise classes by the maestros they admire in order to have better access to them; they spend many hours in private lessons and learning this source of energy that is the body to body, an experience many of them repeat for years. To train yourself using direct sensations and intuition is, although in a different context, the closest to dancing in the patio with your aunt or your friends.
Posted by joegrohens at 12:19 PM | Comments (0)
June 12, 2010
Playlist from June 11, 2010
This is my playlist from the milonga at Refinery, Champaign, IL - a 4.5 hour milonga.

It has a mix of trad and alternative tandas, plus a salsa break.

Joe


Posted by joegrohens at 11:45 AM | Comments (0)
June 10, 2010
Playlist from June 9, 2010
Here's my playlist from last night. If it looks a little short, that's because fellow DJ Pete was spinning tangos during the middle 40 minutes, and I don't have his track list.

Posted by joegrohens at 09:17 AM | Comments (0)
December 31, 2009
Another great tango photo site
Tango, Breakdance, Urban Life photography and Forest lomography by Alexander Zabara

My friend Rebecca hipped me to this site of Russian photographer Alexander Zabara. It has some cool shots of tango dancing and break dancing among other things. Nice black and white stuff.

Posted by joegrohens at 10:04 AM | Comments (0)
December 23, 2009
Photo Gallery - Boston Globe
Tango - The Big Picture - Boston.com

Boston Globe assembled a really nice gallery of tango photos to accompany the UNESCO announcement in October. I just noticed them today. Check them out!

Posted by joegrohens at 02:43 PM | Comments (0)
December 20, 2009
Chicho interviewed in El Tangauta
El Tangauta - La revista del tango / The tango magazine no. 182 (December 2009) gives it's feature interview to Chicho Frúmboli. (Once registered, anyone can download the complete issue as a PDF.)

Milena Plebs asks the questions, and Chicho gives some astonishing answers.
CHICHO: Many young people have gotten involved with tango; we are living the beginning of a powerful era. The genre is here to stay, there is no way that it will become hidden or marginalized again. It is constantly evolving.

MILENA: But sometimes those who are starting lose themselves in all the multiple options.

CHICHO: They are completely lost! I learnt with the last great milongueros, I took the information directly from them. Those who are starting to dance don't have this experience, they learn instead from an intermediate generation that I am a part of; we are a nexus between these old dancers and those who are younger. The problem is that we missed something in the teaching, I take total responsibility, and other colleagues should do so as well. I can't pass on what I have learned. I was crazy about creating, because I saw a new vein in the evolution of the movement. I threw myself into that, and I lost the way to be able to pass on the tango essence that I have very much inside. Because of this I feel that lately there are a lot of people who don't understand or know what the real essence of this dance is.

MILENA: You have been dancing for fifteen years. What changes have you noticed in the dance?

CHICHO: Before, people worked with precision and a particular aesthetic, in a functional and mechanical way that gave it a form, and a style. Making a movement or taking a step implied an expression of the entire body. Currently, not only has the essence been lost but the weight of the dance as well, its density and importance. To me, this new tango lost a bit of the respect for what tango is. [ ... ] Yes, it took me five months to get on the dance floor of the milonga of Almagro, I didn't dare to, and I went every Sunday only to watch. One breathed an air of respect that cannot be found now.
More Chicho

Posted by joegrohens at 03:34 PM | Comments (0)
December 18, 2009
Guide to Tango Record Labels
For anyone interested in the history of tango recording companies, this page on tangoteca is very informative.

It even identifies by name (Ricardo Mejía) the RCA Victor manager who infamously burned the master tapes of tango.


Posted by joegrohens at 05:55 PM
November 02, 2009
1° T A N G O L P E
1° T A N G O L P E

Originally uploaded by

T A N G O L P E


the toes knows - which direction they goes


Posted by joegrohens at 06:13 PM | Comments (0)
October 31, 2009
Tango is a way of thinking
I was a little surprised when I ran across this article about this woman's comparison of her way of being in tango and her relationship with God.
One thing is sure ... tango can mean many different things to the people who dance it.
InsideCatholic.com - Tango and the Theology of the Body

Tango and the Theology of the Body
by Katrina Zeno
10/31/09


I love to tango.

As a single Catholic woman, this isn't always easy. Argentine tango can be danced close -- very close. Its intimacy and passion can sweep me into the romantic ozone layer, obscuring any sense of reality. It lures me into wanting more -- more intimacy, more connectedness, more transcendence.

So why do I tango? Because Argentine tango conceals many profound spiritual lessons. Our relationship with God is meant to be one of intimacy and passion. So it is with tango. In the spiritual life, God leads and we follow. So it is in tango. In the Eucharist, God gives Himself away to us. The same should be true in tango. Argentine tango takes the abstract concepts of our faith and makes them concrete. Let me explain.
Posted by joegrohens at 12:41 PM | Comments (0)
October 22, 2009
.I've got your back
The yin and yang of arms on backs.
Posted by joegrohens at 10:16 AM | Comments (0)
October 04, 2009
Tango - Patrimonio de la Humanidad
Couples dance the tango on the street at Boedo neighborhood in Buenos Aires, on October 3, 2009. The United Nations declared the tango tradition of Argentina and Uruguay a world cultural treasure, adding its sultry dance steps and melancholy song lyrics to UNESCO's heritage list. (Click to enlarge.) Photo from Getty Images.
Tango - Patrimonio de la Humanidad
Letter from Buenos Aires, December 11, 2008.
By Beatriz Dujovne
Feelings of impotence reign in Buenos Aires. I feel it in the air. Cab drivers tell me about it. The newspapers report it: government officials pad their pockets with funds that belong to the people and the country. Official thieving is rampant.
For a change, this government carried good news: The 24 members of UNESCO, an agency of the United Nations, through the initiative of the governments of Argentina and Uruguay, declared tango part of the world intangible cultural heritage last Wednesday. It gained this international recognition over 76 other immaterial world assets submitted for consideration.
On Thursday, posters printed and pasted by the city were everywhere. This is one of many, each of which featured a different tango icon:
Poster of Piazzolla commemorating UNESCO's granting of "protected cultural status" to the tango. (Click to enlarge.)
Many porteños shrugged their shoulders, quite aware that tango had reached all corners of the world by itself, and survived the most difficult times without government involvement. Others were unfazed, as they thought issues of unemployment and safety needed more attention than tango.  For the majority, the news was worthy of celebration. Reflecting the national ambivalence, singer Nelly Omar (98 years old) said: "I am not interested in the honor. I am, if those in power will give new musicians the space they need to work."
Alberto Podesta singing at Avenida Boedo October . (Click to enlarge.)
Two days after the announcement, in Avenida Boedo, the barrio where the tango literature of the 30s and 40s was brewed (many poets and musicians lived or frequented the barrio's cafes), an impressive black stage was mounted from sidewalk to sidewalk. On Saturday, a multitude of hundreds (perhaps larger) gathered to hear five iconic singers who the city had enlisted for the occasion, none under 80 years of age. The standing crowd, which extended one block long, listened with utmost reverence to Ruben Cane (b. 1927), Osvaldo Ribó (b. 1927), Julio Martel (b. 1923), Juan Carlos Godoy (b. 1922), and Alberto Podesta (b. 1924), who took turns on the stage. Elegantly dressed in black tie, each gave us three songs. Visuals of each singer's childhood preceded his appearance. Nostalgic oversized photographs from the 40s and 50s, the familiar pictures that we see in CD covers, were projected at the left of the stage while each sung.
Ruben Cane. (Click to enlarge.)
Ruben Cane again. (Click to enlarge.)
Old and young spectators were in awe. The group's emotion was profound; it was expressed in religious silence.
Osvaldo Ribó. (Click to enlarge.)
Juan Carlos Godoy. (Click to enlarge.)
As a finale, the five men lined up and sang "Vieja Serenata," but not in unison. Each delivered a few verses and passed the microphone to the next. Their memories were faultless. I was amazed that, most likely without rehearsal, as each man passed the microphone, the next in line picked up where the other left without any hesitation. I could hear some whispering: "Can you believe he still has this voice?"
When it was over, I ran to the stairs where they would be descending from the stage. I stood there and watched each one march down. A woman spoke for me when she engaged my eyes and said: "Siento una ternura mirandolos" (I feel a tenderness watching them).
Prior to the grand outdoor milonga where Horacio Godoy was the MC and DJ, Hiroshi y Kyoko Yamao, the winners of the 2009 tango salon competition in Buenos Aires, performed two tangos. They were warmly welcomed and applauded.  To the amazement of the dancers, porteños asked them for an encore.
Hiroshi and Kyoko Yamao. (Click to enlarge.)
I felt touched noticing that the integrationist spirit that gave birth to tango still lives on. The invitation of the Japanese to this unique celebration told me so.
(Copyright (c) 2008 Beatriz Dujovne)
Posted by beatriz at 08:52 PM | Comments (0)
September 26, 2009
embrace in fire

embrace in fire


Originally uploaded by leone.

Awesome photo by Leone.
Posted by joegrohens at 08:29 PM | Comments (0)
July 28, 2009
dos
Very tender....

Posted by joegrohens at 01:21 PM | Comments (0)
July 27, 2009
Merce Cunningham 1909-2009
John Cage & Merce Cunningham
Kuru sent me what he said was his favorite Merce quotation:
"You have to love dancing to stick to it. It gives you nothing back, no manuscripts to store away, no paintings to show on walls and maybe hang in museums, no poems to be printed and sold, nothing but that single fleeting moment when you feel alive. It is not for unsteady souls."
- Merce Cunningham
Thinking back, for myself, the strongest influence of Merce Cunningham on me was actually something that one of my teachers said about him. In those days (70s) my girl friends in modern dance though Merce was "the man", some hunky combination of native talent and rebellious imagination. And I believed that his collaborator John Cage's "Silence" was the trump card of 20th c. music -- if you were clever enough you got out of playing any music at all.
Then my teacher, who had his studio around the corner from Cunningham and Cage in NYC, pulled me up short. "Everybody thinks it's just raw talent or a new idea that makes people like that famous. It's not that. It's their work. Those guys have their noses to the grindstone from early morning to late at night seven days a week. They are workers. That is what they are about."
That was when I came to understand that artistic productivity is work. Steady, disciplined labor. And that you can be proud to call it your job.
Merce Cunningham News - The New York Times
Posted by joegrohens at 06:47 PM | Comments (0)
July 21, 2009
Leaning how to learn
Sometimes the most difficult part of learning tango is learning HOW to learn tango.
How many of us know how to learn something new in our bodies? It's hard. Infants do it constantly. The effort is enormous. We don't put in that kind of effort. We have habit. We think learning should be adding some information to the schema we already know.
Epictetus said:
"If you want to improve, be content to be thought foolish and stupid."
Posted by joegrohens at 12:53 AM | Comments (0)
July 16, 2009
What do Americans Look for in Tango? (from Nito & Elba interview)
.: El Tangauta :. July 2009 No. 177 has a wonderful interview with Nito and Elba.
I became transfixed when I read the interviewer's question "What do Americans look for in tango?", and then Nito's reply.
CARLOS BEVILACQUA (Interviewer): Later you worked a lot in the United States, what do the Americans look for in tango?

NITO:The embrace, the relationship and the friendship. I think that the American has a very solitary life, product of that extreme respect with which they treat each other. They barely greet their neighbors, they would never say to you "You are really fat!" or "how skinny you are!" At best they ask you what you do for a living. With tango the community appears, friends, relationships, conversations.

ELBA:I am completely in agreement.

N:The curious thing is that in spite of the fact that they first fall in love with stage tango, once they begin to practice social tango they forget completely about ganchos and kicks. Now, when they come to Buenos Aires, they go to a dinner-show but afterwards they go straight to a milonga.
It is interesting to see how Nito perceives the Norte Americano personality and how it relates to tango dancing. I can't argue with him about the initial fascination with stage dancing transforming to social tango. Except, sometimes that transition to social tango takes a long time.... like I sometimes wonder when it will ever happen. Ha ha. :-)
But I think he is definitely on the money when he talks about the real value (for Americans and for anyone) of the tango as "embrace, relationship, friendship."
Nito Garcia is a gifted dancer, a kind and sympathetic person, and I think, a very observant and serious teacher. (Elba too, of course.) I think anything he says should be listened to thoughtfully.
That is why, as I read the current interview, I was thinking about Nito's comments in another interview back in 1998 at Stanford Tango Week, which was published in El Firulete Unabashed Tango talk
Listen to this, American tango dancers:
NORA DINZELBACHER
To wrap it up, why don't each of you give the American men some advice to become better dancers?

NITO
Listen to a lot of Tango. Lots of Tango. I don't even like to practice without music. These are habits, of course. You have to listen and listen. Us, we travel a lot; it happens that I arrive at an airport. They come to pick me up. We get in the car and the man who immediately plays Tangos always dances well. The times when somebody picked me up and played salsa or some other kind of music, by coincidence they never danced well. I don't know why, but in my case I would like them to listen to a lot of Tango.
Posted by joegrohens at 03:54 PM | Comments (0)
Adventures of Sorin & Debbie in Bs As
For regular readers of tango blogs this is probably not news. But if you haven't been following Sorin's and his girlfriend Debbi's blogs lately, check them out.
They are both in Bs As this summer and are doing some excellent reporting of the milonga scene, tango class scene, and the shoe scene (see Debbie).
One strange and very interesting thing is that they have each gravitated towards different tango subcultures. Debbie has decided to go to the traditional milongas where she loves dancing with the old milongueros. Sorin has decided to go to the youth practicas (e.g., Practica X, Villa Malcolm).
"You say open, I say close; you say alternative, I say trad; tomato, tomato, etc." But they aren't calling the whole thing off. They are taking classes together at DNI, which they find useful for whatever style of dancing they are doing.
Debbi writes about why she prefers dancing with the old men:
The old men are great. Not because of what they do or don't do, per se, but more because of who they are. They are tango. Not only do they know every note of every layer of every song, and seamlessly move from layer to layer when dancing, but most of them (perhaps all) saw the maestros when they were young.
[...]
This is why their tango is so amazing. You are not just dancing with a man. You are dancing with history, with culture and with decades of understanding. These men know that tango is more than learning how to wrap your partner's leg around you every which way until Tuesday, they know that it is about connections.
Sorin writes about trying to break into the non-traditional milongas and practicas:
The hardest part in some of the BsAs milongas where the people I'd like to dance with go, (the non-traditional milongas) is the "private party" feeling of the event, when one feels it's not part of the party. [ ... ] People here in BsAs tend come with a group and sit together, all closed up. What I mean is they face each other, chat when they don't dance and you can't make eye contact with them to save your life.
[ ... ]
I'm sure someone will ask, or at least wonder, why don't go to the traditional ones? Maybe the traditional milongas are great in season, but at the ones I have gone to, there were very few people I was interested in dancing with. So, my advice to anyone coming here in the winter is, learn Spanish and make friends. Get thick skinned. As fast as you can.
These blogs are excellent reading to get a feeling for how two people can look at the same milonga, and the same dance, quite differently. Plus Sorin has talked about the impact of the Swine Flu concerns on milonga attendance.
Great tango writing, both of you!! Keep it up!
:: UPDATE ::
Oh, I forgot to mention this extremely interesting observation from Sorin.
Sorin says "If I would have state the biggest difference I felt between women who are trained to dance in BsAs vs some other places, is the way they move their hips when dancing. Portenas and foreigners living here they all roll their hips as they walk, which makes for a much more flavorful dance and removes a lot of the stiffness people trained other places have."
My friend Beatriz calls this hip movement "the swing." I agree that somehow the hip movement is more mobile in the women dancers of Buenos Aires. I think it comes from teachers stressing axis, and cautioning women not to break their hips as in salsa, and hypercorrection brings about a lack of hip movement. But, who knows where the swing and the non-swing come from. Many body movements are learned unconsciously just from being around people, like a regional accent in a language.
Posted by joegrohens at 01:05 PM | Comments (0)
Gancho Torsion
tango d'epoca
Originally uploaded by micmac71
Once again I am captivated by a photograph of the talented Italian photographer MicMac71. This photo captures a very fast moment in the dance, and the figure of the couple is beautiful.
I am intrigued by the technique of the dancers. In particular, I notice that the woman's shoulders are more-or-less level, while her pelvis appears to have a contrapposto slope (the right hip, from which her leg does the hook, is released down; her right shoulder is angled slightly up). Her torso is upright, and she appears to be in perfect balance on her forward leg. Despite the vigorous action of the movement she is doing, her body is poised and her face is calm, almost indifferent.
I see that her weight-bearing leg is bent, and although she is the dominant figure, her head is lower than her partner's.
Her spiralic posture is completed by her eyes looking towards her own foot.
The man appears to have ample flexion in both knees, particularly the forward one on which he is lunging. His next move will be to shift his weight back, as she unwinds to face him, undoubtedly the reverse of how they got into this gancho in the first place.
This photograph is as absorbing as a sculpture. Amazing.
Wonderful photograph. Wonderful dance technique.
Posted by joegrohens at 12:28 PM | Comments (0)
July 12, 2009
Tango: Let's dance to the music
This book is A method of tango music for dancers without musical education.
Posted by joegrohens at 01:55 PM
July 09, 2009
Horacio Godoy
Horacio Godoy and Cecilia Garcia
::OPINION::
(Please feel free to leave comments below.)
I'm just back from Chicago Tango Week July 2009, where I was rather impressed by the DJing of Horacio Godoy during the Saturday night milonga.
I have a few observations about him, although I am not 100% sure how reliable my impressions are, since I was dancing, and not really watching what he was doing, or sitting and taking notes. In retrospect I wish I had studied him more attentively.



During quite a few songs I felt that he was playing with the volume -- for example, bringing it down very low during the quiet parts and really swelling it near the climax. I remember specifically when he did this during a (later period) Pugliese song where he multiplied the effect of the dynamic changes (diminuendo/crescendo) already in the music.
He appears not to have too many qualms about mixing orchestras in a tanda. I would swear he did this mixed tanda thing several times, not only in milongas and vals tandas, but also, I am pretty sure, in tango tandas. Here I suppose I might have lost track of time and tandas and could be imagining things.
He sat at his station steadily from the beginning to the end, tweaking the sound on each and every song (and as I already mentioned, manipulating the sound during the course of a song), and constantly watching the dancers. If a dancer liked something he or she could always catch his eye and he would respond. He was involved, and he paid attention. I contrast this with other DJs who let their laptops play their pre-made playlists and go outside to take long cigarette breaks, or who are on the floor dancing most of the time. As far as I could tell this guy never left his post from 9pm - 5 am.
His selection was pretty traditional, yet it was constantly spiced with unexpected wrinkles -- a straight-ahead D'Arienzo tanda, e.g., but with one song added that I had never heard before. Or throwing a Firpo song into someone else's tanda. That made things interesting. The music supported traditional dancing, but it also had surprises.
---
The previous night (Friday), Horacio Godoy was part of a floor-show. He danced two exhibition numbers with his partner. During his first dance he kept trying to get the sound people to increase the volume (gesturing with his arms from the floor). Before his second dance he apparently made them reset the sound system before he would continue. There was a long delay in the performance, lots of talking, and people moving back and forth. Then I saw people moving speakers and stands around to different places on the floor. I don't really know what happened or what was said, but I inferred that he had an expectation for what the music should sound like, and he wouldn't continue until it was right.
I believe that this same fussiness about sound quality was evident in his DJing.
I contrast this with DJs who seem content to play an entire milonga with the music sounding like it is underwater and fuzzy and congratulating themselves on what great music selections they make even if the sound quality isn't that great. Or DJs who take long cigarette breaks outside, where they can't even hear the dance, while their laptop does the DJing for them on autopilot, or DJs who spend most of their time on the dance floor.
It has made me realize that I could do better than I often do.
---
::Update::
I also posted this report on a DJ forum, and got some comments from people who also attended the Chicago Tango week.
Several people wrote to say that Horacio plays the music way too loud, in their view.
Paul from Minnesota (and others who weren't there) said that Horacio probably SHOULD have left the controls and got on the dance floor to see what it sounded like to the dancers. The two PA speakers were in the same line with the DJ controls on one side of a long room, and so he was only hearing reflected sound. Which might be one reason it was too loud. (I myself didn't mind the loudness level, but it was definitely loud.)
Horacio sometimes added extra songs to a tanda (apparently if the dancers were getting into it, he would extend the set). This was a problem in that the milonga had significantly more women than men, and longer tandas reduced the change of partners.
I found out that the attendance at this Chicago Tango Week (July 2009) was more than 500 dancers, by the way. A new record for Chicago Tango Week festival.
Someone who took a workshop with Horacio Godoy told me that Horacio discussed in class the making of tandas from different orchestras but selecting songs from the same year of recording. My friend said that Horacio felt that the year of recording produced more compatibility sometimes than choosing songs by the same orchestra from different years, because of trends in the musical style. For example, the D'Arienzo influenced speed and rhythmic drive of the late 30s and early 40s was imitated by other orchestras, and after '42 they all slowed down, including D'Arienzo.
Others wrote to say that they would not call Horacio's sound selection "traditional," because he plays a lot of post-golden era tango.
Update. My friend Beatriz emailed me this comment:

Joe, I read your piece with great interest. The last time I watched Horacio Godoy DJ was at the outdoor milonga on Avenida de Mayo in late December 2008. Until I read your comments, I had taken for granted how DJs work in Buenos Aires. On the occasion of the end of the year celebration, Godoy stood on a platform two feet higher than the street level, I remember climbing and walking towards him to ask him something. He was as attentive to the dance floor (the "street floor") as you describe him. He had a raised platform for the visual advantage, he could not have seen the dancers had he been standing at street level. His sound system was, if my memory is correct, about six feet long.
Your piece made me think about other milongas. The DJ is typically somewhere above ground level to sense what happens on the floor and regulate his selections. Typically their sound systems are impressive. I have not yet seen computer music playing in Buenos Aires; even regular outdoor milongas (La Glorieta, Plaza Dorrego) use sound systems of some type.

You describe a man (Godoy) who is a connector. DJs, like dancers, can be connected or disconnected from their partners. A DJ's "partner" is the group.


- Beatriz

Posted by joegrohens at 01:57 PM | Comments (0)
July 01, 2009
D'Arienzo Orchestra Resources
This Juan D'Arienzo Discography by Johan in Belgium is one of my favorite reading pastimes.
I like to see how the personnel changes, to follow the singers, and to find out who wrote the songs I love so much. Thinking of tonight's milonga, I wanted to build a tanda around "Nada Mas" sung by Echagüe. The discography helped me to rationalize the following set. Admittedly, Pensalo Bien is a little bit different than the others, but I think it will work if put in first place.
Pensalo Bien
Nada Mas
La Bruja
Mandria
D'Arienzo himself wrote some pretty killer tunes, usually with L. Rubenstein. The following, for example, were all written by JD himself.
Callejas Solo
Chirusa
Paciencia
Nada Más
Dos Guitas
El Vino Triste
Another fantastic document for orchestra history (not just D'Arienzo) is this Tango Orchestra Genealogy (Excel file), showing a view of orchestra personnel on a timeline. You can track band personnel in this very easily. Did you know that Ciriaco Ortiz was in D'Arienzo's first group 1928-1929, and that D'Arienzo himself played violin in it?
Check out the history of pianists in Oquesta D'Arienzo:
Luis Visca 1928-1929
Lido Faso 1935
Rodolfo Biagi 1936-1938 (and we sometimes think the D'Arienzo sound owed so much to Biagi's piano - Biagi struck out on his own after 1.5 years; I guess his successors forever imitated Biagi to some degree)
Juan Polito 1938-1940
Fulvio Salamanca 1940 -1957
Juan Polito 1957 - 1975
More discographies are available here: TangoDJ : Files
And Tobias Conradi's tango.info project also provides great illumination on the recording history of D'Arienzo (and other tango artists, of course).
Posted by joegrohens at 11:32 AM | Comments (0)
June 30, 2009
Step One
"The first step to wisdom is silence. The second is listening."
(Chinese Proverb)

Posted by joegrohens at 05:01 PM | Comments (0)
June 28, 2009
Eugenia Parrilla Interview, Part 3
Chicho & Eugenia dance to "Poema" at CITA 2005
Final installment of interview with Eugenia Parrilla, August 2006, Chicago.
Beatriz: When I see the couples dancing tango salon, I can more or less tell which couples are connected and which ones aren't. Can you do the same and tell which couples dancing "new tango" are connected and which ones aren't?
Eugenia: Yes, by all means. And for me it doesn't have to do with what type of tango you dance. There are things that I would never do, and I like them, but I know I would never do them.
B: Like what, for example?
E: There are couples that I see and I say, "Okay, I would never do that because it's not what motivates me." But I might still love it. I know I'm not going to dance canyengue style. Maybe I could as an interpretation of a time, but I'm not going to dedicate my life to doing that. But I love it when I see it. I love it. There are things that reach you even though it's not exactly what you would want to do.
[…]
Joe: What do you want to do for your personal goals in tango?
E: The idea of integrating more and more things interests me, of being able to integrate theater. It might not have much to do with tango, but I also really like aerial things. I would like to be able to integrate other arts with tango.
B: You're referring to aerial dance?
E: Yes, aerial dance. I would like to be able to do theater quite a bit.

B: You'd like to integrate that with tango?
E: I would like to, that with tango, and theater, and for everything to have a common thread. To get to the point where I can do something more open, more thus like the dance [[la danza]], more artistic. So that the tango would be seen more like something like a dance [[la danza]] and not like a closed circle that only knows tango. That it would expand more each time, that it could go further to la danza, more to expressivity, more to something credible, of expressivity. And I would like to be able to deal with real topics about actual problems, about what's happening in the world. And not just from the point of view of the cabaret and the cafishio who manages the crazy women. It seems that that makes you able to… Well, it's fine. It's the roots. But if that is managed in an intelligent way to be able to do a show, I think in that way it will be interesting. But if it's always the same story, I think it's always frozen. You can take something old and relate it to something more current. Because even today there's lots of prostitution, there are a lot of things, through another context, through another place. And I think that that's interesting, being able to approach the emotions, what's happening with emotions, from a more psychological viewpoint, than through something so closed. I don't know. Something open, more artistic.
J: You said that you studied music?
E: I studied piano.
J: From the point of view of music, do you like the direction that contemporary tango music is taking today with the tango electronico?
E: It seems to me… Mmmm. It's difficult to talk about this because I think that each person wants to do the best they can do, and they try to do the best they can. And those people that try to do the best they can in my mind are very respectable. It's not the same as someone that wants to take advantage and make some money. No, it's not the same. That's why it's difficult for me to talk about this.
B: Do you personally like to dance to electronic music?
E: Not all of it, not all of it. But there are things I like and others I don't. But I think that electronic music is missing a little bit. Like if there's a hollow space between Piazzola, who was more modern, and electronic music. I think that maybe they have to go a little further back to get to something better. But all the same, I don't know. I think there's something missing. But I still like it.
J: What do you think tango music could be like if we had new tango music?
E: I imagine it with more participation from the instruments, like the bandoneon, like the violin, with more rhythmic changes, like with integration of perhaps a little of classical music, maybe a little of something of Pugliese, but without it being Pugliese, but a little of the essence of each thing with an electronic bass. But for me electronic music isn't that march music that goes "Boom, boom" the whole time which I can't stand. I imagine it as like something more symphonic without it getting to the point of being classical music.
J: Are you working on any theatrical projects now, today? Or do you have anything coming up that you can work on?
E: There are projects that I have in mind. But in this moment I'm not doing anything. I want to prepare myself for that. But right now, nothing concrete. But yes, I know what interests me. I try to write the ideas that come to me.

B: If there were a 10 year-old kid that asked you, "What is tango?" and you had to answer him at a 10-year old level, what would you say?
E: (Laughter) How difficult! It's very hard. That tango is like when you love someone and you can move freely like you're playing in freedom with the body.
[…]
Carlota: Do you have a favorite tango performance that you've seen recently that you really liked a lot? That made you think, like, "Oh, yeah, I'd like to do something like that." Not exactly like that but, oh, that's what I'd like to see happening in a tango performance.
E: I wouldn't do it. (Laughs). I wouldn't do the same thing they do. But I love Melina Brufman and Claudio Gonzalez. It's totally different than what I would do. But they impress me, they touch me. They're incredible. And there are a lot of people I like. A lot. I think everyone has at least one thing I like. In everybody something I like. But always you can take something from somebody. But I like Melina and Claudio…I don't remember now because it's a lot.
End of interview conducted August 2006 in Chicago
Posted by joegrohens at 04:38 PM | Comments (0)
June 27, 2009
The Look of Tango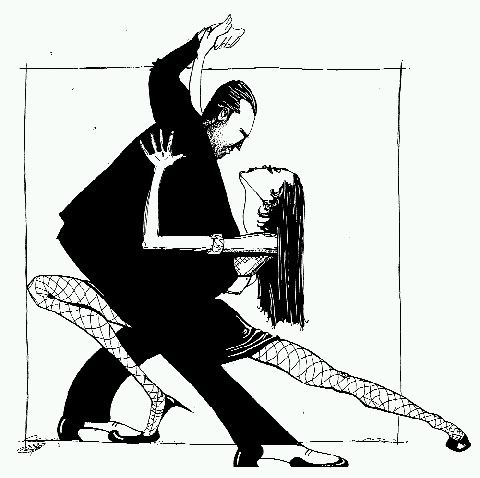 My friend X wrote to me about her chance encounter. Perhaps people in tango can develop a certain radar ("godar"?) for recognizing birds of their feather.
I was in B. (a neighboring town) visiting a friend that recently moved there. We were in a shop and I saw a man dressed in the most beautifully cut black pants and shirt. Gray hair, very distinguished looking. I don't know why, but I said, "excuse me for asking you this strange question, but are you a tango dancer. I know there is tango in your town, but I don't know where." He looked at me and said, "no, I am not a tango dancer, I am a priest".

I swear to you, this just happened to me today. About five people that worked there just cracked up. By the time I left everyone in the store knew I was the one that asked the priest if he was a tango dancer. I have completely lost my mind. He told me he really shouldn't remove his collar. Duh! The least he could have done was have a large cross around his neck. This could only happen to me.
Posted by joegrohens at 11:58 AM | Comments (0)
May 28, 2009
Eugenia Parrilla Interview, Part 2

Continuation of interview with Eugenia Parrilla, Chicago 2006
B: It seems like what you were saying is that what fascinates you about the milongas is the closeness of the people even though they're strangers, and the connections and that sort of thing. But when you went to study with Mauricio Castro and Fabian Salas you found something different and you call it the movement.
E: The freedom of the movement.
B: As opposed to what?
E: The opposite of the intimacy, of the intimacy from the contact. And this appeared to me to be a contrast, but now I think that both have to go hand in hand. One cannot exist without the other, because the dance… the freedom in the dance… without entering into the depth in the connection with the other, and from something spiritual that carries you to the music, is an empty dance. Movement for movement's sake and nothing more for me seems difficult to provoke a sensation in the other. To me it has to go to the depths to be able really get into what the music is saying.
B: Mm hmm. That's very interesting because you tried tango in the milongas and you liked the idea of the intimacy, the closeness, that age isn't important. And then you went to study with Salas and Castro and you were fascinated by the movement. And now it seems like you're at a stage where you think that the two things need to be integrated.
E: In my eyes the two can't be separated.
B: For example, let's take the show you guys did yesterday. Do you see yourself dancing in this way that you're saying you think it should be? And how do you see the other couples that danced with regards to the freedom of movement and the intimacy?
E: Well, I'm not sure how I see myself. In reality, I attempt. I attempt to unite both things that for me have… they're connected to the music and to each other. To be able to reach that state. It's like yoga. You reach a spiritual state to be able to go into the depths of a sensation. Because the music doesn't consist of just the rhythm. It has… life, sadness, happiness.
B: So you, for example, when you were dancing yesterday, you felt like… Well, a show is a little different, right? But when you talk about that you mean…
E: It's really not different because we improvise, so you have to go to that. I think in reality in both types of dancing you have to go to that. Whether it's choreography or improvisation. But since the improvisation is completely spontaneous, I think it's very important to reach that state. It seems to me that tango is in a process at the moment. It's in a process of integration. And if that integration doesn't occur, for me it will be lost. Because already, all the people are crazy about the tango that's more free, more new. But for me it's not about doing the craziest moves you can, but instead being able to integrate the two things because otherwise in the end, it's like, for me, what happens to me is I reach a point where I stop watching because… the movement by itself is empty.
B: It's empty. And it tires.
E: And it tires. Because it becomes, well, I don't know. You don't know what they did ... if it was a sacada ... it's like ... well, it's all the same. But if it goes along with the music, and if you're like another instrument in the music and you can connect with the other person intimately, it seems to me that that is when it becomes interesting. I believe that's the point the couples hope to reach. I think that this is in process with the young people. Also, it seems that it is a question of being open or a matter of taste. [inaudible] Because they're not interested in doing a tango that's more free, more new.
To be continued.
Posted by joegrohens at 08:28 PM | Comments (0)
desiderio
They are not even in the embrace and already it is tango. (Dancers: Donato & Carolina.)
Check out this photographer's Flickr account. He has many great tango photos.

Posted by joegrohens at 09:21 AM | Comments (0)
May 26, 2009
Tango
Tango
Originally uploaded by marinochka!
Nice shot! I love the torsion in her upper body as she crosses forward. To me this is a classic tango look. Look how close they stay towards each other in the shoulders, despite her stepping forward between them. Excellent posture for both. I wonder who they are.
Posted by joegrohens at 12:48 PM | Comments (0)
May 22, 2009
Interview with Eugenia Parrilla, Part 1

Interview with Eugenia Parrilla. Chicago, August 2006. Interviewed by Beatriz Dujovne and Joe Grohens and then transcribed and translated from video tape.
Eugenia: I was born in the Province of San Luis. When I was 18 I moved to La Plata which is about one hour from Buenos Aires. I studied Plastic Arts in La Plata. I would go to "colegio" in the morning, and in the afternoon all day long go to the art school, so it was a little tiring. It was like I never had time left to, I don't know, be with your friends, or do other things.
Beatriz: Did you study dance in La Plata?
Eugenia: No, I studied dance before going to La Plata. I started studying when I was young. I started, first, because they don't accept you so young in Fine Arts, I started around the age of 6, then I continued and around. And then I started from age 12 to age 16 en Fine Arts.
Beatriz: Did Fine Arts include ballet too?
Eugenia: Yes, but it's a complete school. Fine Arts offers drawing, piano, French, jazz…
Beatriz: And this is the one that demanded a lot?
Eugenia: Exactly, because it's the type of school you're there all day, from, 7 in the morning until 6, 7 in the evening, more or less.
J: So at what point did you start dancing tango?
E: When I lived in La Plata, I used to go to a café. It's a long story. First, they called me because I studied. First I studied industrial design, and everything about industrial design, visual arts, music, and what else… Well, plastic arts that are all in the same university. It was a very big university. And so, there… oh, and film too. And I was at a stage in my life when I wanted to do things involving theater and film. And since I had some friends that were making a short film, some here and some there, they called me to play a role in a short film. And when they starting filming the short film, one of the cameramen gave tango classes, he danced it. And so one day I ran into him on the street and he asked me what I was up to and just by chance I had that day off and he invited me to a tango class and I went and… it was like a game, really. I didn't get hooked. I went that day and that was it.
Well, later what happened is some time passed, like a year, and it's because, you know… And I would go to the café where you generally take textbooks and each person reads what they want. And that day there wasn't, the café wasn't there, there was a milonga. And I stayed there watching the milonga and I liked it a lot. So there was an old man there and I got close to him and asked him if he could teach me and he was the one that takes care of the universidad! And he gave classes where I studied in the carpenter's workshop. And it was neat, because where they would make all the designs out of cut wood, it was a carpenter's workshop with machines. They would make some space and everyone that wanted to would go in their free time and dance in the university. And so, there I started to learn, and on my birthday a friend invited me to go to a milonga in Buenos Aires, and I loved it! And each time, I was more hooked.
J: Which milonga?
E: La Viruta
B: Do you go to the milongas now?
E: Yes. Not a lot, but yes. Sometimes I go more and sometimes not.
B: La Viruta in Buenos Aires. You were around what age? 20?
E: Let's see, in '98.
B: '98, yes. That was your first exposure? That was your first contact with tango where you really got hooked, and liked it?
E: Yes, yes. But I only used to go once a week because I lived in La Plata.
B: And in La Plata there wasn't tango like there was in Buenos Aires?
E: No, no. But all the same I went and danced and that was it and then…
B: And when did the tango itch really start getting to you?
E: Well, after a year I said okay, I'm going to the coast, I'm going to work and save money so I can keep studying and taking classes. So I moved to Buenos Aires. So I went and I worked a lot. It was funny because I was working a lot to be able to keep studying and taking classes. When I arrived to Buenos Aires I moved with a friend and it was hard but we arrived. We rented a house, but we were ripped off. I had to start working. And then with work and taking classes it was very difficult.
B: We're talking about tango classes now, right?
E: Yes, yes. But I also kept going to the University. But since they ripped us off and we had to spend a lot of money, well, it was a mess.... So, I had to work a lot and take very few classes.
B: And whom did you take classes from?
E: At first I took around 10 classes with Horacio Godoy.
J: At La Viruta?
E: No no, in the Estudio de Mora [Godoy]. With Horacio. Yes. And then I met… I went to a class with a friend who was friends with Fabian Salas. And Mauricio Castro was there also, since he gave Fabian's classes when Fabian wasn't there. And so… I loved it. I loved it because it felt like it was more like dance (la danza).
At first in the milonga I loved the idea that the people didn't know each other, but they were acting like they did. It's very special. And the contact with the other person, they're so close, I loved it. And the older men with the younger girls, it seemed like they were in love when in reality they weren't. Well, it was very special. And then I got hooked on the idea of the movements being more free. Almost like the movements were like a dance (una danza).
(to be continued)

Posted by joegrohens at 06:17 PM | Comments (0)
May 06, 2009
History of Tango
The definitive article on the origins of tango:
Tango - Uncyclopedia, the content-free encyclopedia
Posted by joegrohens at 11:43 AM
Why are Americans so...
My daughter emailed me this.
Go to google. Type in "why are americans so"
See what it suggests.
Posted by joegrohens at 11:29 AM | Comments (0)
April 28, 2009
Hip Resurfacing for Tango Dancers
Over at Tango for Life, Dave Donatiu blogs in clear and inspiring detail about his hip resurfacing surgery, and the pain that has kept him from tango. It doesn't sounds easy, but it is going to put him back on the dance floor.
Congratulations Dave for making the brave decision, and best wishes during your recovery.
See also my previous blog post about Jeff Gaynor, another tango dancer who had the same procedure (Birmingham Hip Resurfacing), and who is now very active once again.
Posted by joegrohens at 10:29 PM | Comments (0)
April 03, 2009
Tango in Comics?
"Bang! Tango" is a new comic book series about dancing and crime.
Yay. Maybe this is where tango finally lives up to its potential as a martial art style. Ha ha!
Must have!!
Click to enlarge.
Reviewer Joe Kelly at Read About Comics describes the storyline:
Vincente Ponticello isn't just a guy who dances the tango in San Francisco, he's quite possibly one of the best people to dance the tango in San Francisco. What he's not telling anyone, though, is that before he moved out west, he was involved in some less than legal activities and a bit of a gangster—and now he's in hiding from his old New York associates, making sure to never go back east. Then Autumn shows up, the girl who got away, and she's desperate for him to recover some pictures that are being used for blackmail. But even on the other side of the country, Vincente's about to learn that you can never really go home again.
Read the full review here:
Read About Comics Bang! Tango #1-2

Posted by joegrohens at 06:01 PM | Comments (0)
March 06, 2009
Playlists from Cowboy Monkey
Several people have asked me to post playlists from recent dances.
I haven't had time to clean these up. For example, some song titles just say "Track 03" and stuff like that. Sorry for being sloppy. But if I don't upload them now it will likely wait months and people will forget what they were looking for.
This is music that I played on Wednesday tango nights at Cowboy Monkey in Champaign, Illinois.
** UPDATE 3/7/09 **
I am adding three more warts-and-all playlists from February.
Cowboy Monkey February 11, 2009
Cowboy Monkey February 18, 2009 - The cortinas are indicated as "CARNIVAL" and were a minute or more in length. We were going for a Mardi Gras vibe this night.
Wednesday March 4, 2009
Posted by joegrohens at 06:27 PM | Comments (0)
February 18, 2009
Candombe / Murga / Carnaval in Buenos Aires
At this time of year, many countries and cities celebrate carnival, festival of Catholic origin preceding Lent.
Tango Cherie has written tangocherie: carn" target="_blank"> a lot about murga, candombe, and carnaval celebrations in Buenos Aires.
Here are some other references I have gathered:
Murga - Wikipedia, the free encyclopedia
Candombe - Wikipedia, the free encyclopedia
Posted by joegrohens at 12:08 PM
carnival music
I found this imix on brasilian carnival music - not bad.
If readers know of others i would appreciate links.
-joe
Posted by joegrohens at 11:37 AM | Comments (0)
February 02, 2009
New Playlist - And Controversy over Alternative Music
The downloadable PDF will show you what I played last Wednesday:
Jan 28, 09 at Cowboy Monkey(PDF)

There was an alternative set midway:


Le moulin - Yann Tiersen - French Pop

Chat pître - Richard Galliano - Jazz

Siempre Me Quedará - Bebe - Latin

Pequeño Paria (Roy Dubb ReRaDioMix) - Melingo - Neotango

As far as response, it seemed to me that this set had a good majority of people out on the dance floor.
But I received an interesting series of comments.
One guy came up to me in frustration, just before the last song started, and said "Please, Joe, would you play some real music? I want to dance with [Ms. X] and I can't do it to this stuff." I asked him to be patient. The set was almost over, and I pointed to the floor and said "Look, they are all enjoying it." He left the DJ booth agitated, no doubt fearing that he would never get a chance to dance with her that night. (But he did, and afterwards said how wonderful it was.)
A second guy came up after the set finished, saying what a wonderful set that was, and thanking me, and asking me to send him the titles of the tracks played. He repeated his thanks several times before he left at the end of the night.
So, you make one person happy, another person sad.
Posted by joegrohens at 05:02 PM | Comments (0)
Omar Vega
From left, Omar Vega, Carina Losano, Tono Gallesio standing, Tete Rusconi kneeling . Sept. 21, 2008, Porteño y Bailarín.
Tono sent this picture, saying it was taken at the last milonga Omar Vega attended before he died.
Don't ask me what Tete is holding; I don't know. Perhaps trying to steal Carina's navel jewelry.
Posted by joegrohens at 04:41 PM | Comments (0)
simmetria soporifera...
simmetria soporifera...
Originally uploaded by micmac71
A familiar story.

Posted by joegrohens at 02:58 PM | Comments (0)
uno, dos, un dos tres
uno, dos, un dos tres
Originally uploaded by felialonsof
I never tire of looking at some things ing tango. The turning of the woman's forward foot as she advances into her step, and the triangular figure/ground cut-outs between the legs, are endlessly interesting to me. When I see beginners dancing and their legs make this kind of intersection, I feel like already they are dancing "real" tango, and it produces a pleasing visual effect that I love about this dance.

Posted by joegrohens at 02:43 PM | Comments (0)
January 17, 2009
Tango Orchestras in Silent Movie Theaters
NitrateVille.com :: View topic - The most famous of the silent movie theater orchestras
This film website has an excellent discussion of the performances of tango orchestras for silent film in the 1920s. Includes MP3 and sheet music samples.
Posted by joegrohens at 05:32 PM
December 30, 2008
Concert - Café de los Maestros

Mariano Mores conducting
Orquesta de la Café de los Maestros (click to enlarge)

------

The Tango Golden Era of the 1940s is well and alive in 2008
Letter from Buenos Aires, December 11, 2008.
By Beatriz Dujovne
Sixty plus years later I was part of the Golden Era for two hours. Film director Gustavo Santaolalla, who produced two CDs, a book, a DVD, and a movie - all called "Café de los Maestros"-, was ready for The Maestros' second one-time live performance. (The first was in August 2006, at the opera house.) His ambitious project gathered tango directors, musicians and singers from the 1940s. The seats at Teatro Rex on Corrientes Avenue (where tango action took place in the 1940s) were totally sold out. Some artists represented 6, 7 and 8 decades of tango.
Sitting next to a stranger in a show of this nature is having access to a temporary instructor. I do not have to wonder if my neighbor knows the artists' careers. I assume he or she knows. So I ask what I want to know. In this case, he fills me in about the age and the most remarkable aspect of each musician and singer to appear on stage.

Leopoldo Federico, first row, glasses (click to enlarge)
Continue reading "Concert - Café de los Maestros"
Posted by beatriz at 05:04 PM | Comments (0)
December 17, 2008
Playlist 12/17/08
From Cowboy Monkey Wed. night tango dance.
Posted by joegrohens at 11:04 PM | Comments (0)
December 10, 2008
University of Illinois grad students win "Dance Your Ph.D."

Markita Landry and Florin Bora of the University of Illinois graduate school in Physics have won the popular choice category of the American Association for the Advancement of Science "Dance Your Ph.D. contest" with the tango-dance entry on the theme of Markita's thesis research ("Single Molecule Measurements of Protelomerase TelK-DNA Complexes").
Congratulations!
See the winning entries: 2009 AAAS/Science Dance Contest Winners

Posted by beatriz at 12:20 PM | Comments (0)
December 09, 2008
Susana Rinaldi: Live Performance on Sunday October 26
Letter from Buenos Aires
by Beatriz Dujovne
Today porteños attend events celebrating the day of Buenos Aires' historic cafes. I am at Café Homero Manzi, where dark lustrous wooden walls are covered with photos of tango personalities during the golden era (1935-1950). This is the venue where the poet Manzi gave birth to the nostalgic lyrics of tango "Sur."
Cafe Homero Manzi
The day woke up grayishly and drizzingly tanguero. At 11 AM, at the corner of San Juan y Boedo, the thirty musicians (12 strings and three bandoneons) of the Orquesta de la Ciudad de Buenos Aires open the outdoor show. They give us Piazzolla's Libertango, and two other pieces with lyrics by Ferrer and music by Garello (who is conducting): "Buenos Aires es tu fiesta" ("Buenos Aires is your celebration") and "Viva el tango."
This is the luscious appetizer.
Continue reading "Susana Rinaldi: Live Performance on Sunday October 26"
Posted by beatriz at 01:55 PM | Comments (0)
December 06, 2008
Piazzolla-Jazz concert
Letter from Buenos Aires, December 5, 2008 By Beatriz Dujovne
Laura Escalada accepting plaque of honor from Mario Parmisiano
for her work as president of the Astor Piazzolla foundation.
After ten years touring the world with USA guitarist Al Di Meola, Chick Corea, Herbie Hancock, John Patitucci, Steve Gadd, and Orquesta sinfonica de Moscu, Argentine pianist, composer and arranger Mario Parmisiano returned to Buenos Aires. Last night he appeared in concert combining Piazzola's tangos and improvisational jazz. Piano, electric bass, bandoneon, and drums, were at times joined by eight strings from the opera house, the Teatro Colon. A DVD was made during this performance at the Metropolitan Teatro in Corrientes Avenue.
Continue reading "Piazzolla-Jazz concert"
Posted by beatriz at 07:06 PM | Comments (0)
November 30, 2008
Alterna Tango idea
Following a request for help creating an alternative milonga, Peter Turowski proposed this playlist.
Interesting to think about, and there are some songs in here I haven't listened to before.
Posted by joegrohens at 07:53 PM | Comments (0)
Tango intimacy
Tango intimacy
Originally uploaded by Métempsycose
I like this photo. It feels like tango to me.

Posted by joegrohens at 03:34 PM | Comments (0)
Sandra Luna's live performance. October 10, 2008
Letter from Buenos Aires
By Beatriz Dujovne

Sandra Luna and Raul Lúzzi. Click to enlarge.
From Link: Sandra Luna * Blog Oficial

Not all tango singers fulfill porteños' expectations. There is no mercy for poor diction or out of tune voices. In a way they are as picky as Italians are with opera singers.
Sandra Luna has it all. She delivers the heart of tango with perfect voice, stage presence, beauty, warmth and drama.
Her intimate show happened at café concert El Vesubio in the mythological Corrientes Avenue where orquestas tipicas used to perform in multiple establishments during the golden era of tango.
Continue reading "Sandra Luna's live performance. October 10, 2008"
Posted by beatriz at 12:01 PM | Comments (0)
Gavito's dance shoes at the National Museum of Tango

Shoes, cologne, cufflinks of Carlos Gavito. Click to enlarge
Letter from Buenos Aires
By Beatriz Dujovne
There are many treasures in this museum. The typewriter where Catulo Castillo wrote his glorious poetry, the bandoneon play by our beloved Anibal Troilo, historic publications, recordings, and memorabilia of all kinds.
Link showing display cases: Academia Nacional del Tango - El Museo
Knowing that Gavito has a place in the heart of many in the Chicago area, I took pictures of his shoes, cologne, and cufflinks guarded at the museum. (Photos to come.)

(Copyright (c) 2008 Beatriz Dujovne).
Posted by beatriz at 11:25 AM | Comments (0)
La Biela
The picture above shows my "office": an outdoor table at confiteria La Biela, where I write my letters.
Link: El restaurante La Biela en el corazón de la Recoleta
Posted by beatriz at 11:19 AM | Comments (0)
TANGO...... alma, dolor y pasión.
TANGO...... alma, dolor y pasión.
Originally uploaded by C.Muá
The photographer says:
Vivencia intransferible del cuerpo. Magia en el encuentro, en el alma no hay más lugar que para el tango milonguero. Que no quede viruta en el piso de la academia, brilla el charol siguiendo el compás. Ciñendo el talle y mirándose a los ojos, así se baila el tango, sentido y pasional.

[My loose and weak translation. Suggestions for a better translation welcomed.] Intransferable experience of the body. Magic in the encounter. In the soul there is no space for anything more than the milonguero tango. So that there won't be wood shavings left on the floor of the academy, the gleam of the shoes follows the beat of the music. Encircling the waist and looking each other in the eyes, this is how is danced the tango, felt and passional.
Posted by joegrohens at 11:14 AM | Comments (0)
Iglesias del Pilar
This is Iglesias del Nuestra Señora Pilar. It was founded in 1732. The photo does not reflect what it is.
Posted by beatriz at 10:50 AM | Comments (0)
National Museum of Tango declared of cultural interest by the legislature of the city of Buenos Aires.
Letter from Buenos Aires. October 28, 2008
By Beatriz Dujovne

Salon Dorado. Click to enlarge

Hat of Carlos Gardel at the National Museum of Tango. Click to enlarge.
Sweet and brief. That's how it was the ceremony held in Salon Dorado of the Legislature of Buenos Aires. This is one of many French neoclassic public buildings erected in the first third of the XX century. It features a ninety-five meter high clock tower. Upstairs the Salon Dorado's elegant glass doors opened into a charming space of sober grays and rich golds. Shedding warm light, six chandeliers along the main central hall and ten smaller ones along two side galleries are testimonies to Argentina's economic splendor during the early 1900s.

Continue reading "National Museum of Tango declared of cultural interest by the legislature of the city of Buenos Aires."
Posted by beatriz at 10:41 AM | Comments (0)
More playlists
Below are a few more playlists from recent tango dances where I was DJ.
Posted by joegrohens at 10:15 AM | Comments (0)
November 23, 2008
How not to learn the tango
YouTube - Latin Dances & Dancewear Styles : How to Learn the Tango
Hoo boy.
Posted by joegrohens at 03:01 PM
November 19, 2008
How Humans Learn
I hear and I forget. I see and I remember. I do and I understand. - Confucius (551 BC - 479 BC)
Posted by joegrohens at 02:27 PM | Comments (0)
November 15, 2008
Piazzolla Music Online
This site has an extensive collection of recordings of the music of Piazzolla that you can listen to online, using Real Audio 3.
Astor Piazzolla Listening Booth
Posted by joegrohens at 02:14 PM
November 08, 2008
Each milonga is its own story
Each milonga is its own story.
Letter from Buenos Aires, November 1st 2008
By Beatriz Dujovne
Photos from milonga "Sueño Porteño"
"Sueño Porteño" on Wednesdays at 7 PM has a different ambiance. I found it friendlier and less macho scented than most. The space was problematic since I could not grasp the entire group, something I came to expect in the usual large square or rectangular venues. This one was split into several dance floors and seating areas but remodeling is planned for the near future. At 10 PM all seats had already been taken by the 500 to 600 dancers who had arrived before 8 PM.
A very accommodating woman (a rarity among milonga hostesses) led me to the only table available - next to two tables occupied by couples. I could move to any chair I wanted if one became available anywhere, she said. At most milongas, the men's and women's sections are clearly separated. Not in this one, a refreshing and different touch. My next seat neighbor greeted me, also an unusual social gesture in this city where people are friendly everywhere except at tango dance halls. He warned me that no one would look for a dance partner where I was sitting because this was the couples' area.
What to do? Just sit there and watch?
Continue reading "Each milonga is its own story"
Posted by beatriz at 01:55 PM | Comments (0)
art must arouse suspicion
"Somewhere art must irritate and arouse suspicions. Art is authentic when it is not complacent." - Rodolfo Mederos
Posted by joegrohens at 01:01 PM | Comments (0)
November 06, 2008
Playlist 11/5/08
This is what I played tonight.
Tango Playlist from Cowboy Monkey 11/5/08 (pdf)
Proportion:
Electronic 6%
World 8%
Vals 11%
Milonga 11%
Tango 64%

Some previous Playlists:
Posted by joegrohens at 12:36 AM | Comments (0)
November 05, 2008
Adriana Varela Live in BA

Photo courtesy of Luis Guzman. Click to enlarge.

---
Adriana Varela - live performance Letter from Buenos Aires. October 31th 2008. Beatriz Dujovne
Adriana is definitely a wild tango singer. Different in style and personality from others I watched perform: Susana Rinaldi, Amelita Baltar, Maria Graña, Sandra Luna. Five different strong personalities, voices, stage presences, ways of feeling and delivering our splendid tango poetry.
The Ateneo theatre was filled to capacity. I asked the man sitting next to me why this was the most expensive show I ever attended in Buenos Aires. Varela has a big following, he said. She came to tango from rock and roll. She has followed Roberto Goyeneche's (deceased) tango singing style. My neighbor warned me that his wife would scream during the show; that's what she does when she likes something, he added. For no reason at all he recommended "La Fanola" a program in Radio Nacional from 1:30 am to 5:00 am. He likes to listen to the radio at those wee hours of the night.
Continue reading "Adriana Varela Live in BA"
Posted by beatriz at 11:31 PM | Comments (0)
November 04, 2008
gavito
The photographer Leone says:

"portrait of a man ....
photo taken during a conversation about tango and life ....
he was more than a dancer, more than any other teacher, he was more like a philosopher even when he danced."




Yes, I agree with that.
For Gavito, it seemed, tango was the way that a man such as himself - that is to say, among other things, an Argentine man - could explain and express and recognize what that it meant to be alive. I should say that this was my opinion about him. But you got this impression because every comment he had to make about life was related to an analogy of tango. And every lesson he had to teach about tango had to do with what it meant to be alive, with being human.

Gavito had some talking points that would astonish his listeners. At first you thought it was hyperbole. The next minute you reasoned that maybe he really believed his ideas himself. And later that evening you thought that maybe you had just heard the essential truth from somebody who had plumbed the depths of tango. Day by day, year by year, I still wonder about some of the things he said, and what the hell he was trying to say.

For example:
In Argentina all the people have only one feeling, and that feeling is tango.
Don't rush when you dance. Don't be in a hurry to get somewhere. Tango is not about looking toward the future. (Beats go by. In my mind's ear I anticipate that he is going to say that tango is about being in the present. I will be wrong.) Tango is about looking for something in the past.
It's a little cryptic, no? And pretty deep, depending on your interpretation.


Posted by joegrohens at 08:25 PM | Comments (1)
October 28, 2008
The Size of Steps in Milonga
Tonight after a class, a woman who is rather new to tango, but who dances naturally and well, said that she wanted to ask me a question. Normally she dashes out of class without speaking. This was a little unusual, and apparently she had a "burning question."
She said that at a recent tango dance, a man she was dancing with told her that steps in milonga are always very tiny, and that her steps were too big. (She demonstrated, showing me a back step of about 5 inches, and saying that he told her that step was too big for milonga.)
She asked me if what he said was true or not.
I said that milongas can sometimes be very fast, and that makes for small steps. Also tango dances tend to be crowded, and that makes for small steps. So, yes, there is truth to what he said that milonga has small steps. But, I told her that she will only be able to take a step of the size that the man allows. He might guide her into a big step or a small step. It's up to him to decide that. If he has to tell her with words how to step, that can be taken as a signal that he probably doesn't know what he is talking about.
Then she said that he must have known what he was doing because he said he was a teacher. And, according to him, in milonga all steps are very tiny. I said I couldn't imagine any tango teacher saying such a thing at a dance. She said, oh no, he teaches tango, he told her so.
Well, I told her, as I said, whoever he was, if he had to use words to control your steps, he doesn't know how to dance tango, and it should suggest to you that he might not really know what he is talking about.
Rrrr.
I think that telling women their steps must be of a certain size whenever they dance - whether you are telling them to make their steps "long" or "short" - is a crime against tango dancing. It plants the seed of an evil intractable idea that interferes with the reality of all future dancing situations. Later some other dance partner in some other situation will tell this woman to take longer steps. And eventually, if she keeps listening to self-appointed dance masters at the milonga, she will become one of those women who dance by mentally processing a memorized collection rules that they have been told by men who don't know how to dance. Some women have told me that they use one technique for dancing with one guy, and a different technique for dancing with another guy, because the men tell them how they should dance, but their rules all contradict each other.
Thanks a lot, self-appointed teachers.
Posted by joegrohens at 02:51 AM | Comments (0)
October 25, 2008
Letter from Buenos Aires # 5
To dance tango at its fullest, it helps to have a feel for its culture.
By Beatriz Dujovne: Letter from Buenos Aires # 5. Sunday October 19, 2009
My friend Celina wakes me up at noon for our daily telephone funny routine. With a smiling heart, sun glasses, and giant invisible arms I step out of my apartment eager to hug this Buenos Aires I love. At this time of the year the jacaranda trees' bluish-lilac flowers sprinkle the city with impressionistic-brush strokes.
As usual, I head towards my office which is a lovely outdoor table at my favorite confiteria in the corners of R. M. Ortiz and M. Quintana. After breakfast at 1:00 PM, with the eagerness of a kid looking for Christmas presents, I look forward to discovering the events I will find in the newspaper. I want to go to all of them; I want to play with all my toys. Choosing between Susana Rinaldi's recital and Sexteto Mayor grand performance is no easy task. I discard seven or eight seductive events, and choose to watch a four-hour long Argentine film "Inexplicable Stories"; it is only shown at the Museum of Latin American Art.
Continue reading "Letter from Buenos Aires # 5"
Posted by beatriz at 03:59 PM | Comments (0)
October 24, 2008
Florin & Markita
My friends Florin and Markita are entering this video in the AAAS Dance Contest. The more people who watch it, the better their chances.
Check it out.
Posted by joegrohens at 01:28 AM | Comments (0)
October 22, 2008
and i quote
'I got a dance ain't got no steps, y'all.
I just let the music move me round.'

- Preston, Billy. "Will It Go Round in Circles."
YouTube - Eric Clapton and Billy Preston - Will It Go Round In Circles
Check out Clapton's solo. He plays licks, by the way - the equivalent of dance steps; but he uses them to improvise. On the other hand, he and many other rock/blues guitarists have "written" solos that they repeat note for note when they perform.
And check out Billy Preston's dance.

Posted by joegrohens at 12:52 AM | Comments (0)
October 21, 2008
sarahandbarack
sarahandbarack
Originally uploaded by Ligadier Truffaut
Well, if this image has been taken down, I'll just take matters into my own hands:
Ha!



Great photoshop hack.



If this were real, I think it would weigh in Palin's favor, and work against Obama. Especially his Latin heels and flamboyant gestures. First Joe the Plumber compares Burak to Sammy Davis, Jr. Now this.



Whoever the real woman dancer is, she has some good arm & shoulder development.
(Yes, I know it's not tango. I don't know why the photographer tagged it that way. I suppose it's probably cha cha, international style.)


Posted by joegrohens at 10:17 PM | Comments (0)
October 20, 2008
Romanian Tango
Argentine Tango at Ki Dojo of Florence
Ki Dojo has a good article here on Tango outside of BA - on this page, Romania, discussing Jean Moscopol, Titi Botez, Maria Tanase, Christian Vasile and Gion.
Posted by joegrohens at 08:30 PM
October 18, 2008
Horacio Ferrer
Horacio Ferrer
Originally uploaded by Nauzet Acosta
Beatriz wrote about seeing Horacio Ferrer recently in BA.

"I just saw for the second time the operita Maria de Buenos Aires. Awesome. Ferrer ar 75 reciting the poetry he wrote in 1964 without reading."

Posted by joegrohens at 02:47 PM | Comments (0)
October 15, 2008
Yo queria bailar. Carlos Gavito, vida, pasión y tango
Yo queria bailar. Carlos Gavito, vida, pasión y tango, a new biography of Carlos Gavito, written by Ricardo Plazaola, was published in February in Spanish. An English translation is expected late this year.
Author Ricardo Plazaola is a journalist, and the father of Maria Plazaola, Gavito's last dance partner. Mr. Plazaola came to know Gavito through his daughter, and interviewed Gavito during the last months of his life.
Gavito was a specialist in pithy reflections on the tango, and I expect this book to have a lot of classic quotes.

Dice Gavito, y Plazaola transcribe: "Yo bailo el silencio. Bailo lo que hay antes de la música y los que hay después. Bailo nada, bailo eso que es como una intención".


Gavito says, and Plazaola transcribes: "I dance the silence. I dance that which comes before the music and that which comes after. I dance nothing. I dance that which is like an intention."

Posted by joegrohens at 01:31 AM
October 11, 2008
Letter from Buenos Aires # 4
Letter from Buenos Aires # 4. October 10th. 2008
Beatriz Dujovne
Sadly, Enrique Binda's seminar came to an end last night. If you have followed my letters you know that he is a true historian of tango's beginnings, as well as an expert in tango developments in the 1920s (also a collector of music of that era). I felt so enlightened about yesterday's materials that I feel inclined to share my notes with those of you interested in tango music. As a dancer I tend to think that the best of tango belongs to the golden era. Not so.
Continue reading "Letter from Buenos Aires # 4"
Posted by beatriz at 02:20 AM | Comments (0)
October 08, 2008
Arrabal Tango Club
Arrabal
Originally uploaded by Alyne Dagger

Some Second Life players are creating tango scenes.

See Flickr: Tango at Arrabal and Arrabal Tango Club





Continue reading "Arrabal Tango Club"

Posted by joegrohens at 07:10 PM | Comments (0)
October 06, 2008
Passiones


why?


Posted by joegrohens at 12:33 PM | Comments (0)
September 29, 2008
Letters from Buenos Aires #3
Letters from Buenos Aires
Beatriz Dujovne
I head towards Avenida de Mayo today Thursday September 25th 2008. More precisely to Professor Enrique Binda's second class at the National Academy of Tango. Teacher and students do not kiss in his class, we do not seat in a circle either. But I have another class before this one with a different teacher; in his class we seat in a circle and we do kiss.

Continue reading "Letters from Buenos Aires #3"
Posted by beatriz at 08:49 PM | Comments (1)
Against
Seth's Blog: It's easy to be against something
It's easy to be against something

...that you're afraid of.

And it's easy to be afraid of something that you don't understand.
Posted by joegrohens at 03:06 PM
September 23, 2008
Letters from Buenos Aires #2
Buenos Aires, September 18, 2008
Beatriz Dujovne
Avenida de Mayo was completed with its full European splendor for the one hundredth anniversary of the city in 1910. Many of its restaurants and cafes have been there since that time. So has the hotel where Garcia Lorca stayed.
Spanish immigrants used to congregate in these establishments. I know that for a fact. I was there among them during my childhood. I felt privileged as a seven year old when my uncle Jose took me on his Saturday night outings to Avenida de Mayo where he met his friends from Galicia, Spain. As the only child at the restaurant table I got a lot of attention, but soon got bored listening to their reminiscences about the old country. Once, to alleviate my boredom I got up and moved around for a while holding what I thought was Jose's hand. Instead I looked up and discovered the person was a perfect stranger. I became frightened for a second, until I spotted my uncle watching me from a short distance, wondering what I would do when I realized I was holding onto a stranger. That event did not become a trauma. Maybe back in my unconscious it adds to my delight when I embrace a stranger tango dancing.
Continue reading "Letters from Buenos Aires #2"
Posted by beatriz at 12:20 AM | Comments (0)
September 20, 2008
Music Selection for Beginning Class
I have made an iMix for my beginning tango class.
Joe's Tango iMix 1 Click to listen and download items. (Requires iTunes.)

Continue reading "Music Selection for Beginning Class"
Posted by joegrohens at 10:28 AM | Comments (0)
September 15, 2008
Letters from Buenos Aires #1
Letters from Buenos Aires
Beatriz Dujovne
What does a porteña tanguera who lives in the USA do during her first day in her beloved Buenos Aires?
Waking up at noon to break the time regimentation routine is a must. Rushing to work? I already forgot. Instead I hurry to an outdoor confiteria for a cafecito. Hurrying just to get the morning caffeine. Leisure begins. Sipping the cafecito under the sun…reading two newspapers so no cultural event is missed.
Today Sunday September 14, 2008 one event draws my interest: Discussion of Piazzolla's Tango at the Fondo Nacional de las Artes with Horacio Malvicino (guitar player of Piazzolla's quintet), Amelita Baltar (Piazzolla's wife and singer) and music critic Diego Fischerman.
I am personally interested in learning why I do not hear Piazzolla's tangos played in milongas in the USA. When I dance Piazzolla's Oblivion, Tanti Anni Fa, Nonino, even Libertango, I dance the same heart I feel in traditional tango. I understand why Piazzolla's tangos are not played in Buenos Aires milongas. Porteño tangueros have never accepted his music as real tango. Yet, outside of Buenos Aires I would have expected loyalty to traditional tango would not have unleashed passionate animosity against Piazzolla's music.
Digression: several years ago his music was used as a "cortina" in Salon Canning. I took offense.
Continue reading "Letters from Buenos Aires #1"
Posted by beatriz at 12:24 AM | Comments (0)
September 06, 2008
How Can We Have More Men in Tango?
Four tango teachers, one woman and three men, were talking after dinner at the home of a festival organizer in the U.S. Other dancers were also present. Someone asked, "How can we bring more men into the tango?"
The first tango teacher, the woman, said "Get more attractive women." Some laughed at her joke.
The second tango teacher said, "Always give the men things that they can't do yet, to challenge them. Otherwise they will get bored." Some men in the room nodded in agreement.
The third tango teacher said, "No, the opposite. Make sure that the men have it easy and build on small successes. If it's too hard for them to do, they will leave." Some other men in the room nodded in agreement.
The fourth tango teacher said "You must teach the women about their responsibility in the dance and give them their work to do. Don't always focus on the men. Otherwise, the women think it's just up to the men, but the men can't make such women dance until they themselves are more advanced. That's why the men give up. And the women start asking you for adornos because they don't think they have anything to do." At this, all fell silent. Some had surprised looks on their faces. The next person to speak changed the subject.
Posted by joegrohens at 02:45 PM | Comments (0)
September 04, 2008
My first milonga
The "Confessions Of A Tango Dancer" blog asks Question #3: What Was Your First Milonga Like?
This was my response, modestly revised.
My first milonga. Beautiful question.

I'll call it "our" first milonga, because I went with my tango dance partner, who eventually became my girlfriend, and we still are together.

Our first milonga was in Chicago @ Tango Nada Mas (now defunct). We had taken a few private lessons from our local ballroom teacher where we live (Champaign-Urbana). I would say they were very good lessons, and he was and is one of the best dance teachers I have ever known. But he was just beginning to learn Argentine Tango himself, and what he taught had a lot of carry-over from ballroom tango.

Anyway -- teacher said we knew enough, we should find a place to go dance, and see how other dancers do it. The nearest place was Tango Nada Mas in Chicago - 2.5 hours away. I called Bob Dronski, said we wanted to come up. He reserved a table for us. (!)

It was beautiful, fantastic, glorious, changed our lives, etc. I remember that all we knew was a few patterns - a few 8-count basics, though I don't think they stepped backwards. We also had learned "the gancho", "the parada (w. sandwich, etc.)" and "the sentada". The sentada cracks me up when I think about it now, and I sometimes lead it for fun. It's actually a classic figure - Pibe Palermo used to do it. And I saw Carmencita doing it on one of the CITA videos.

Anyway .... we stood out like we were Harlequin and Columbina - a couple of puppets. Everyone in Chicago was so friendly and welcoming to us. A lot of the guys asked Carlota to dance, (and of course, were quite generous with the teaching.)

God, I remember that night so fondly. I was scared to death, and managed to dance a total of four songs the whole night (each one separated by a half hour of sweating pulse-pounding recovery).

I learned a lot from seeing real tango dancers dance.

And the part that makes us laugh to this day (more than 10 years later) is that when people could come chat with us and ask us where we were from, they always said "You seem to dance a different style of tango." Yeah, that's for sure.

That was when I started to think of myself as an orillero.
Posted by joegrohens at 07:46 PM
Oscar Ferrari - 9 August 1924 - 20 August 2008
Oscar Ferrari biography on TodoTango
Oscar Ferrari died on August 20, 2008. He had been performing until recently, his pure tenor voice undiminished by age.
On stage with another group.
In the Cafe de Los Maestros film, by Gustavo Santolla

Excerpt from interview on Todo Tango (linked above):

I suggest to all who "dig" tango that they ought to have respect for the music, for the lyrics and that -before recording- they have to dive into the meaning of the lyrics; especially for a very simple honest reason: we are using the talent of the writers and musicians and the least we can do is to respect what they wrote. We don't have to change the music to fit our convenience. Today I listen to recordings in which the music has nothing to do with what the composer wrote. No, boys, no. When distorting the music, tango loses harmony, loses beauty, because the one who wrote it burnt his eyebrows to find the chords and to achieve the right harmony. The least we can do is to respect him, to sing according to the music the author wrote and not to accommodate the lyrics to make it easier for us. No, no, let us respect him, because we are using that talent without paying anything and living on him.
Posted by joegrohens at 05:38 PM | Comments (0)
September 02, 2008
Miguel & Nelly Balmaceda
In early July we heard the sad news that Nelly Balmaceda had died. Julia Balmaceda, Nelly's son, and his partner Corina were scheduled to teach in Chicago on the July 4th weekend but had to cancel.
This video shows Nelly and her husband Miguel Balmaceda performing to "Gallo Ciego" (Pugliese version) at Salon Canning. I believe the video was filmed by Daniel Trenner in the early 1990s. Please correct me if you have better info on this.
Miguel and Nelly ran one of the most important practicas in Buenos Aires during the 1980s and 1990s, until Miguel's death. Many of today's teachers started there. Susana Miller, for example, started learning tango there. The story is always told that Miguel would not allow dancers to do figures. He wanted them to train only in walking for the first two years.
In this video you see a lot of figures.
Posted by joegrohens at 09:48 AM | Comments (0)
Tango reaches lolcats
That is some nice contra-body torsion!
Posted by joegrohens at 08:44 AM
September 01, 2008
Alterna Tango
The Tango Tales Radio website has a page listing examples o what they call alternative tango. Each title includes a link to the iTunes store where you can listen to the mp3 sample. (Requires iTunes).
Music Sampler: the best of alternative tango music (alterna-tango or found tango)
Posted by joegrohens at 05:47 PM
August 30, 2008
What Tango Music Should I Buy?
A tango beginner asked me to recommend about five CDs of traditional tango music that he can listen to and practice.
Listening to the music is such a critical part of becoming a good dancer.
It's difficult to precisely name CDs, because there is much to choose from. It would be easier just to name orchestras. But here are my picks, which would give anyone a good starter set of commercially released CDs.
1. RCA Victor 100 Años, by Carlos Di Sarli
2. Poema, by Francisco Canaro
3. Yo Soy de Parque Patricios, by Angel D'Agostino & Angel Vargas
4. Solo Tango: Instrumental Vol.1, by Juan D'Arienzo
5. Al Compas Del Corazon, by Miguel Calo
6. Ausencia, by Osvaldo Pugliese
I like to buy from tangostore.com. They are in Bs As, where the exchange rate is decent and the shipping is reasonably prompt. A buyer can check out their mp3 samples before hand. I think it's good to choose music that appeals to you.
Also, Planet Tango sells their own DJ-selected compilations of CDs. The Planet Tango "Tandas" CDs have tangos, milongas and valses arranged in sets by various orchestras, and they are all selected explicitly for dancing (as opposed to just listening). It is a good way to become familiar with the most important dance orchestras.
Keith Elshaw has spent the last several years digitally remastering tango tracks and also sells his compilations on CD, or by MP3 download.
All of these websites are great places to explore and learn about tango music.
Posted by joegrohens at 05:17 PM | Comments (0)
August 16, 2008
What do Mark Spitz and Mike Phelps have to do with tango?
the mystery, the magic, the wonder, the innocence of never having done it before, those are the seeds of creativity that came into my personal story.
Last night Bob Costas from NBC interviewed Mark Spitz and Mike Phelps together.
Mike Phelps has just tied Mark Spitz's record of winning seven gold medals in a single Olympics game. Of course both men are in the same event - swimming.
I was really impressed with Mark Spitz last night. In contrast to Mike Phelps's inarticulate responses Spitz had some powerful words about Mike Phelps, about the mindset of competition at that level, and about how great Phelps's achievement is.
He told Phelps that he would come to realize that his greatness would have a tremendous impact on younger athletes, and that he had a huge responsibility to those coming after him, in what he showed them about sportsmanship and behavior and how he handled his competitions. And he said that he knew that Phelps was equal to that responsibility.
The assurance that Mark Spitz displayed in talking the greatness of Mike Phelps revealed a lot about Spitz's own inner confidence. It came across as "no self doubt whatsoever."
But then Spitz said something really interesting. He said that what kept him motivated and successful in his youthful days of swimming competition, in which he dominated the sport and broke many records, was "the mystery, the magic, the wonder, the innocence of never having done it before, those are the seeds of creativity that came into my personal story."
Doing something that you have never done before can be very scary. Having the aplomb to go forward into the challenge of the new, the unknown, that is an important quality.
That is the quality one needs in tango. Because the best dances are always the ones where you feel like you are setting out into undiscovered territory. Even if you are doing steps you have done before. If it feels like you don't know what's going to happen next, and you aren't sure if it's going to work, but you stay calm and immerse yourself in the moment - that is where the most memorable dances come from.
Posted by joegrohens at 05:53 PM | Comments (0)
August 15, 2008
Gustavo Santolalla
Article on Gustavo Santaolalla in NYT today. Bajofondo Tango Club plays in Central Park tonight.
Gustavo Santaolalla's Film Scores Are Minimalist and His Tango Is Newfangled - NYTimes.com
"We don't consider what we are doing as tango," he said. "We are doing contemporary music, music that expresses the urban landscapes of Buenos Aires and Montevideo. Obviously tango will be present there. But milonga, candonga, murga" — three other local rhythms — "and rock, hip-hop and electronica are also part of the genetic map of this place."

Posted by joegrohens at 01:11 PM
August 07, 2008
Codes of the milonga
Advice.
Two excellent articles on milonga customs and strategies for success.
Saber Milonguear 1 The obvious codes of the milonga.
Saber Milonguear 2 The hidden codes of the milonga.
Posted by joegrohens at 02:26 PM
August 06, 2008
Can you see the difference?
Apparently times have changed in one of my most fondly remembered milongas: Porteño y Bailarin.
Some years ago, when we were there, the dance floor was filled with an intriguing mix of dancers. Professional dancers went there (e.g., Gavito, Flaco Dany, Pupy Castello, Pulpo, Javier and Geraldine). But also it seemed that a lot of "ordinary" dancers were there too. It was like the title said - porteños (natives) and bailarines (dancers).
I actually liked seeing that someone as bizarre and non-traditional as Pulpo & Luiza would be on the floor with normal dancers, and nobody seemed to mind. Nobody was bumped. Everyone co-existed in peace and harmony, and respect. That's how it seemed to me. And the energy had a very creative and electric charge.
This first video comes from around that time, 2004. I didn't take the video.
This is possibly my favorite tango video on youtube. I like the music, I like the captured moments and evolution of the tandas. I love the waiter - so on the ball. One guy serving the whole place.
YouTube - Porteño Y Bailarin milonga
Recently a new video from this milonga appeared on youtube. It looks like tourists have taken over the dance floor, and neither professionals nor natives want to set foot on it.
Now the only person on the floor that's worth watching is the waiter.
YouTube - 080227 Milonga Porteno y Bailarin - Buenos Aires
Posted by joegrohens at 11:12 AM
August 05, 2008
rhythm
A Portrait of the Artist as a Young Man :: Concordance

[7927]--Rhythm, said Stephen, is the first formal esthetic relation of part
[7928] to part in any esthetic whole or of an esthetic whole to its part or
[7929] parts or of any part to the esthetic whole of which it is a part.
[7930]
[7931]--If that is rhythm, said Lynch, let me hear what you call beauty;
[7932] and, please remember, though I did eat a cake of cowdung once, that I
[7933] admire only beauty.

Posted by joegrohens at 02:38 AM
August 02, 2008
Levels (again)
This festival in Stockholm has an interestingly thorough and verbose way to define dancers' level of dance competence. They hope that dancers will enroll in workshops that have an appropriate level of difficulty. But, looking at the teachers (e.g., Arce / Montes), I think a lot would depend on the teachers you have studied with, and the style of dancing you do. According to this standard, I doubt that there are very many tango dancers of level 5 in the U.S. Even many people who teach tango are not at this level. Tango 59° Stockholm City
Levels

We urge you to be sensible when assessing your own level. Please read the following very carefully.

The level suitable for most participants who honestly can say to themselves that they are good at tango is Level 3.

Please do not assume that having attended Advanced level classes with other arrangers means that you should automatically choose classes on Level 4 or even 5. Level 4 is already higher than Advanced with many other arrangers.

Given the precision of the descriptions below, we are confident that it will be easy to find your appropriate level. However, if your first day at Tango 59 Degrees reveals otherwise, we will be happy to assist you in finding another level which better corresponds to your standard of dancing.

| | |
| --- | --- |
| Level 1 | You have no prior experience of tango, or have perhaps attended a few introductions before practicas. |
| Level 2 | You have danced for at least six months to a year or more, 2-3 times a week. You are working on the fundamental techniques, and think you are getting quite good at them. |
| Level 3 | You are an experienced social dancer. You feel entirely comfortable with the basics and are working on intermediate tango elements and some more advanced stuff, in both open and close embrace. It is quite natural for you to adapt your style of dancing to different orchestras. You have been dancing tango regularly, by which we mean at least 2-3 times a week, for at least 2 to 3 years or longer. |
| Level 4 | You are a very experienced dancer who feels equally confident in tango, vals and milonga. You have excellent balance and technique and dance with equal comfort in both close and open position. You really enjoy dancing on very crowded floors and never collide with, unsettle or disturb other couples. You have visited several tango festivals outside your country of residence, and have been dancing tango regularly, at least 2-3 times a week, for 4-5 years or longer. |

For the few:

| | |
| --- | --- |
| Level 5 | You are very advanced, even when considered on an international level. You master all elements mentioned for Level 4 and have gone beyond them. You are able to analyse complicated movements and combinations of movements at a single glance. You have certainly been dancing tango frequently over a very long period of time. |
Posted by joegrohens at 08:54 AM | Comments (0)
Grant Park
_DSC4121 copy
Originally uploaded by donocelotl
Chicago Grant Park, Saturday, July 19, 2008 - Orchestra Tipica Imperial free concert.

I love the woman checking her phone messages in the foreground.

Posted by joegrohens at 12:02 AM | Comments (0)
August 01, 2008
Carlota & Erwin
_DSC4783 copy
Originally uploaded by donocelotl
At the Chicago Tango Week (July 4, 2008) - Friday night milonga.

Posted by joegrohens at 11:56 PM | Comments (0)
tiger woods's golf swing
Slo-mo biometric analysis of Tiger's swing. I wish they had these kinds of things for tango walking.
Posted by joegrohens at 11:29 AM | Comments (0)
July 31, 2008
ENoguchi_20080505_tango__MG_7145
ENoguchi_20080505_tango__MG_7145
Originally uploaded by birdnoguchi
I love the double iteration of the women's lockstep. You can see why it's a popular step, why it has become a custom, why people who dance tango like to use it.

Mmmmm.....

Posted by joegrohens at 11:32 PM | Comments (0)
Tango Therapy Conference
Tango Therapy radio feature from PRI (Public Radio International) reports on the recent tango therapy conference in Rosario, Argentina.
Psychologists and physical therapists believe learning to tango can help people suffering from Alzheimers, Parkinson's Disease, and depression. Richard Reynolds finds out more at the first International Conference on Tango Therapy.
According to the report, one study found that Tango interventions for Parkinson's were equal or superior to Waltz, Foxtrot and T'ai Chi. Another study found that Tango alleviates depression - which, the journalist notes, is "ironic, since tango lyrics are always sad." Research into tango therapy is just getting started.
My partner Carlota works in a health food store. She said that after the report was on the radio, customers came into the store asking where they could learn tango.
Read review by conference participant Christina Johnson
Posted by joegrohens at 07:40 PM | Comments (0)
July 24, 2008
Authority
Anyone who conducts an argument by appealing to authority is not using his intelligence; he is just using his memory.

Leonardo Da Vinci
This phenomenon can be found in the world of tango dancing.
Posted by joegrohens at 11:21 AM | Comments (0)
July 16, 2008
This Is Your Art
I remember a class with Gavito where he stopped the class right in the middle of our practicing some sequence he had shown. He cut the music, and ordered us to stop right there. Then he said something like, "Look, I'm not joking here. You want to be in this class, do the work. Be serious. I'm an artist, and tango is my art. I'm a painter, only I paint with my feet. This, right here, this is a dance floor. When you come onto this floor, whether you like it or not, you are a dancer. You are an artist. This is your art. Act like it. Or don't come onto this floor."
I'm paraphrasing from distant memory ... now about 10 years ago. But I remember the mood in the studio that afternoon, while he was talking. You could hear a pin drop. That guy could lay down some heavy vibes. He got very steamed up sometimes with frustration during teaching. He'd blow his top, then five minutes later he would go around apologizing.
Jeff Allen's interview with Gavito (In "Quickstart to Tango" 1998) quotes Gavito as saying something very similar to what he said in our class that day.
A student would say "We are not dancers". Listen lady, from the moment you step a foot, you are a dancer. That's a dance floor. If you don't feel like that, then get the hell out of here! Because if you want to put your foot there, you are insulting me, if you say your problems. Because that's a dance floor. That is not a shop, a market, a cafe, a restaurant. That's a dance floor. So from the moment you decide to put on a pair of shoes and come and put a foot there YOU ARE A DANCER. I'M GOING TO TREAT YOU LIKE A DANCER!!! And I want the same response. I want you to be a dancer!!
Posted by joegrohens at 12:51 PM | Comments (0)
July 15, 2008
The Role of the Dance Artist in Society
The artist should belong to his society, yet without feeling that he has to conform to it. He must see life fully, and then say what he feels about it. Then, although he belongs to his society, he changes it, presenting it with fresh feelings, fresh ideas. Art should be a reflection and a comment on contemporary life.
-- Anna Sokolow, "The Modern Dance: Seven Statements of Belief"
Posted by joegrohens at 12:08 PM | Comments (0)
July 11, 2008
Inner Vision
X. and I were chatting about the previous night's milonga. She brought up the subject of dancing with the eyes closed.
"I used to think people closed their eyes to help them get into the dancing better," she said. (Probably even better when they keep their mouth open as well. - editor)
"Now I think it's so they can imagine they are dancing with someone else," said X.
---
So much the rather thou, celestial Light,

Shine inward and the mind through all her powers

Irradiate. There plant eyes.

--Paradise Lost
Posted by joegrohens at 06:58 PM | Comments (0)
July 10, 2008
Ezequiel & Eugenia at TangoCamp 2008
TangoCamp 2008
Originally uploaded by minton
This photo is an excellent opportunity to study important details of technique and posture.

I notice, for example, that Eugenia's body weight is evenly split between front and back legs, she has both toes opened out slightly, her back knee is completely stretched, her spine is vertical, she has a twisting orientation toward's Ezequiel's center, and her arms are lengthened and relaxed looking. Eugenia's left arm reaches all the way across Ezequiel's back, and her left elbow and shoulder are released enough that her arm comes back behind the plane of her back. Her shoulders are level.

Ezequiel gives the gancho with his outside leg, generating considerable spinal twist so that he can remain facing her. His outside arm (left) is lengthened forward to allow Eugenia's arm to stay comfortably in front of her right shoulder (rather than pulling her arm toward him more). Ezequiel's standing foot is pointed at a 90° angle away from the line between Eugenia's feet. And his shoulder's are turned towards Eugenia so much that they are also in this same 90° angle to her line. His right arm reaches across her back. One thing that doesn't look right to me is that his gancho appears to be hooking the front thigh of her trailing leg. Wouldn't it be more normal to hook underneath her forward leg? I mean, if he is really hooking the leg. I suppose he is just throwing a boleo between her legs.

I assume that this is a counter-clockwise turn, and I would call it step 1 of the turn, since she is stepping forward with her left leg. He could have done a back sacada (more typical) during her forward step, but instead it's a gancho.

This looks like a difficult move. I wonder what happens next.

Posted by joegrohens at 10:57 AM | Comments (0)
June 10, 2008
eyes, camera, acting
This is a nice photo. I keep looking at it wondering (1) how she did her eye makeup, and (2) whether she's really into it or just acting. The obligatory eye closing always makes me suspicious. I guess I suspect that she did her makeup just so it would look good when she closed her eyes to dance tango.
Posted by joegrohens at 06:11 PM | Comments (0)
June 09, 2008
Tango of the 70s and 80s
In Jackie Wong's interview with Gloria and Rodolfo Dinzel, she gets them to talk about when they met and what tango was like in the 1970s and 1980s.
I clipped two quotes that I have been mulling over.
With the politics at that time, the young people were very rebellious. In our era, when they killed Che, the men were rebellious against the politics. So they wore long hair.

I was the first ballerina at the Teatro Colon but I moved into Tango because I am Argentine and Tango is Argentina.
--Gloria Dinzel
The way she refers to Che by his first name, the idea that Che is the explanation for men wearing long hair, and counterculture and hippy rebellion. At first it shocked me, and then it moved me. When I meet Argentine people through tango who were touched by that period, it is unavoidable to consider that tango, though apolitical itself, becomes a medium of individual political expression. And I realize that the generation who nurtured the revival of tango in in Buenos Aires was the cognate of a generation in other countries who participated in protest movements, civil rights demonstrations, and an international crisis of conscience about political oppression and injustice.




[T]he Tango is a dance that fosters liberty and it encourages people to come together and do their own interpretation of the dance... and this is the definition of democracy. My liberty ends in the moment that your liberty starts.  So everyone on the dance floor can do their own thing until it interferes with someone else.  Therefore a milonga is a great school for democracy and liberty,  if you look at it this way, as we mentioned during class.  It is my opinion that the military felt the same way.  In the history of Argentina, when the military has control, Tango is repressed.  When there is democracy, Tango grows and prospers.  There is evidence of this in the numbers.


--Rodolfo Dinzel

That is one reason why rebellion is in the DNA of tango.
Posted by joegrohens at 05:27 PM | Comments (0)
The Three Pillars of Tango
OPINION
Tango dancing has three pillars of personal development: taking lessons, practice, and dancing at the milonga. Each area of tango activity reinforces the other. Of the three, I personally think that practice is the most important.
Improvement in tango has a simple formula: for each hour of tango practice a person gains one hour of improvement. For each month of tango practice, a person gains one month of improvement. No practice, no improvement.
Continue reading "The Three Pillars of Tango"
Posted by joegrohens at 03:44 PM | Comments (0)
Research on high heels and flip flops
A new study suggests that walking down stairs while wearing heels raises the chance of foot and ankle injuries. But don't go too far the other way: A second study shows that flip-flops may lead to lower-leg pain.

High-heel researcher Lalitha Balasubramanian says several studies have shown that just walking down the street in heels can lead to everything from blisters and bunions to backaches and sprained ankles.

In what she believes is the first study of its kind, Balasubramanian and colleagues looked at the motion of the ankle joint in 11 college-aged women as they descended a flight of stairs. Balasubramanian is a graduate researcher in bioengineering at Louisiana Tech University in Ruston.

Posted by joegrohens at 03:34 PM | Comments (0)
End of recent entries on this page. See monthly archives for older entries.